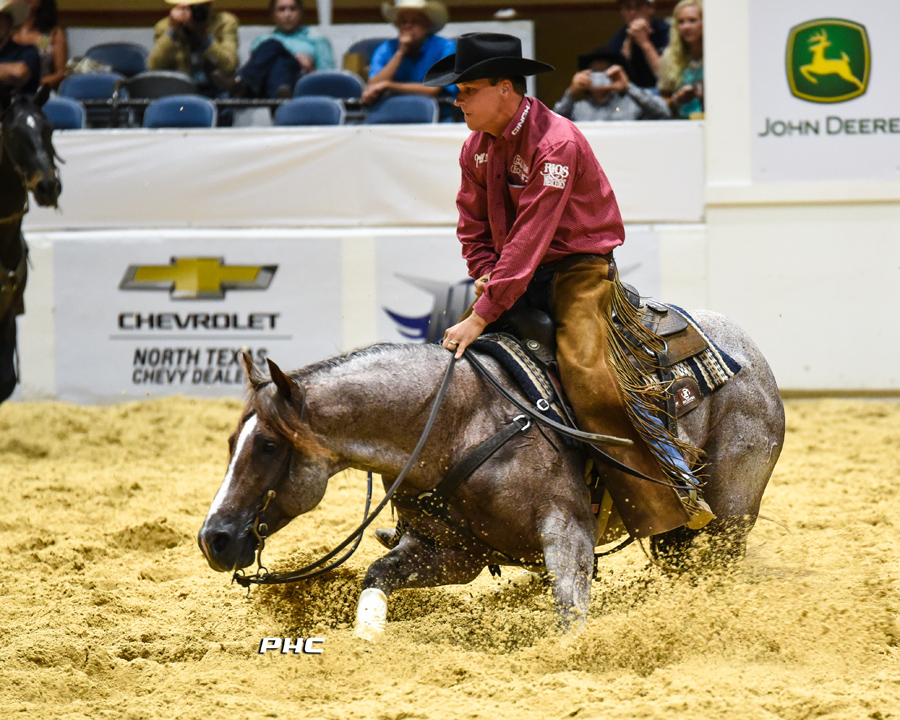 The Absolute Reduction Sale of Fults Ranch
On August 19, 2021, Alvin and Becky Fults will open a new door with The Absolute Reduction Sale of Fults Ranch, at the ranch in Amarillo, Tex. A landmark event for the cutting industry, the sale will include offspring of leading all-time living sire Metallic Cat, and feature the offspring of their current cornerstone stallion Stevie Rey Von LTE $420,903, Metallic Cat's first Futurity champion and fifth-highest money earner, whose first foals are three-year-olds this year.
Included in the offering will be weanlings, yearlings, embryos and broodmares, including Stylish Baby Doll LTE $201,425/PE $602,664 and Hottness PE $250,019.
In addition to Sweet Abra, a three-time Equi-Stat Leading Cutting Producer of earners of over $1.8 million and current leading dam of 2021, the dams of yearlings offered include Sweet Abra's full sister, My Little Abra, dam of 2016 NCHA Open Horse of the Year Ichis My Choice PE $425,517, among seven earners of $727,036.
Sweet Abra's last full sister, Sassy Lass Abra, also sells, as well as Hes Wright On LTE $172,067, an all-time leading sire of NRCHA money earners.
Yearlings by Metallic Cat and Stevie Rey Von, out of NRCHA Snaffle Bit Futurity Open winner Smart Crackin Chic LTE $217,000/PE $740,970, are also included in the offering.
Fifteen years ago, rancher and commodities broker Alvin Fults, who turned to cutting after an injury forced him to give up roping competition, purchased a 2003 Abrakadabracre daughter named Sweet Abra, who would carry him to earn his first limited age event checks.
"I moped around for several years feeling sorry for myself," said Fults, referring to the end of his rodeo career. "Then I took up cutting and the rest is history. What I thought was the worst thing that could happen to me, ended up being the best thing that ever happened to me. It was like that saying, 'When one door closes, another one opens.'"
Fortunately, the best thing for Fults also proved to be monumental for the cutting horse industry. Beginning with Sweet Abra and Metallic Cat, who Fults purchased at three and sold to Rocking P Ranch 13 years later, Fults Ranch-owned and bred horses have enriched the sport in countless ways.
Metallic Cat, with offspring earnings of $43 million, has proven a magic cross with many mares, but none as successfully as Sweet Abra. Nine out of Metallic Cat's ninety-two earners of $100,000 or more were bred by Fults Ranch out of Sweet Abra, including 2017 NCHA Open Horse of the Year Metallic Rebel LTE $438,315. Altogether, Sweet Abra has produced 21 earners of $1,899,108, with an average of $90,434.
"I think she is going to make two studs famous," said Fults of Sweet Abra. "She was instrumental in getting Metallic Cat kick-started and now she has Stevie Rey Von babies.
"We built this program altogether over fifteen years. We put our hearts and souls into it and it just kept growing. And one day I realized I didn't have time to show, which was the reason I started, in the first place.
"We aren't going anywhere, but it is going to be nice to slow down and have time to go show, promote Stevie, and watch his babies in the show pen."